The spectacular Anillo de Picos route explores the different preserved mountain huts in the complex mountain range terrain of Picos de Europa, making it a gripping hike. Anillo de Picos offers three alternative circular hiking trials which lead on to each other: El Anillo Vindio, El Anillo Extrem and El Anillo Tres Macizos. When strung together the hike becomes more uneven and requires more days to complete.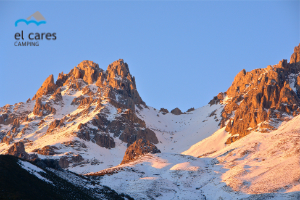 Advice and recommendations for hiking this route.
You should consult different guide books before starting the route, in order to get to know the terrain. You should also check the weather conditions for the days you plan to hike.
Before hiking up mountains like the ones in Picos De Europa, it is paramount that you prepare appropriately. It is not recommended to attempt a high intensity hike if you carry a physical condition. Ideally, you should train beforehand to physically and mentally prepare yourself. This way, when you come to actually do the hike, you'll enjoy it much more.
What you can not forget
Orientation it is essential, and to help with this you should bring a map. This is because, although you will often see signposts, they are not present at all times on the routes. You should find painted markers that indicate offbeat trails and milestones, which are piles of stones on the sides of the trail.
Always bring enough water for each stage of your hike. Given the scarcity of it in Picos de Europa, it is usually only found in the mountain huts.
In terms of equipment, dress appropriately and bring the correct gear. You'll need mountain boots and loose, warm comfortable clothes. Only bring essential items so that you don't fill up your bag with unnecessary items that will weigh you down and make you feel more fatigued.
For safety, it is highly advisable that you are part of a hiking organization. At the very least, you should take out specialised insurance which covers you on a mountain.
Basecamp
We suggest starting the route at Camping Cares and do the circuit until it comes full circle to finish at our campsite.
If you are thinking of doing the route alone, you must reserve at least 15 days before your stay at each mountain hut.
As well as accommodation and the food that the mountain huts offer during your stay, picnics can also be prepared for you to take with you on your journey. However, this is only available if you reserve one beforehand. Therefore, if you have already thought about making your own picnic and instead want one made freshly for you, please enquire before you arrive to give the staff time to freshly prepare one for you.
Lastly, you must always be prepared for any and all eventualities to ensure that you remain as calm as possible. Do not hesitate to call 112 as soon as possible so that the authorities can help you as soon as they can.
Ultimately, el Anillo de los Picos is a spectacular natural space where beautiful trails can be explored. So when you head out on to the mountain, don't forget to equip yourself with everything that you may need on your journey. We guarantee that, with good preparation, it will be both a phenomenal and an unforgettable experience.
More information about the itineraries Picos Ring