Caving is the art of exploring caverns, caves and other subterranean hollows and is a great chance to have fun in an extremely interesting and otherworldly environment. Venture below and discover the world underground with our specialist guides.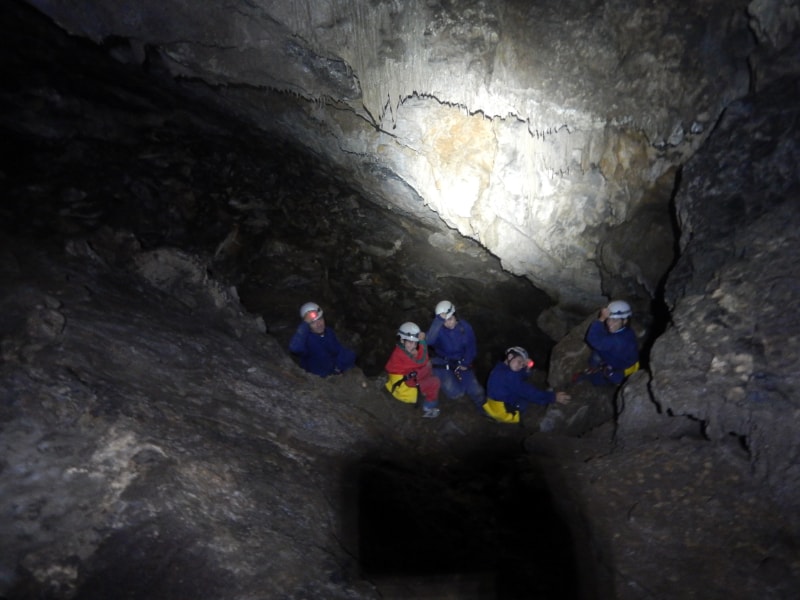 Explore underground
Underneath León in the Picos de Europa National Park, there is a spectacular yet almost unheard of subterranean world. Despite being unfamiliar to most, it is one of the most interesting and singular places in the whole of Spain to explore caves and caverns.
Explorers have discovered more than 400km of caves and caverns here, including 14% of the deepest chasms in the world.
How were the caves in Picos de Europa formed?
Over 30 million years ago, thanks to the collisions of the Iberian and European tectonic plates, a mountainous relief was produced in our National park. From the top of this relief, which now forms our mountain range, the area's rivers eroded the terrain to produce deep and precious valleys which now divide the three massifs of the Picos de Europa National Park.
"In the confrontation between the stream and the rock, the stream always wins; not through strength, but through persistence." (Buddha).
A large part of the shape of our limestone massifs is owed to the quaternary glaciers as they carved through the landscape many years ago. As these glaciers moved over the land, they fostered karstic relief. Karstic relief is when calcium carbonate from the limestone rock is dissolved in water and enters underground through cracks and drain holes forming streams. These streams take advantage of the weaknesses in the rock and they slowly abandon their old course by dissolving underground limestone to make a new path, finding large open spaces deep below the surface.
Due to this, it is possible to find dry caves, 2.5km tunnels in addition to wells and pools left by the streams, and in some cases are hundreds of meters deep. Image taken from the University of Oviedo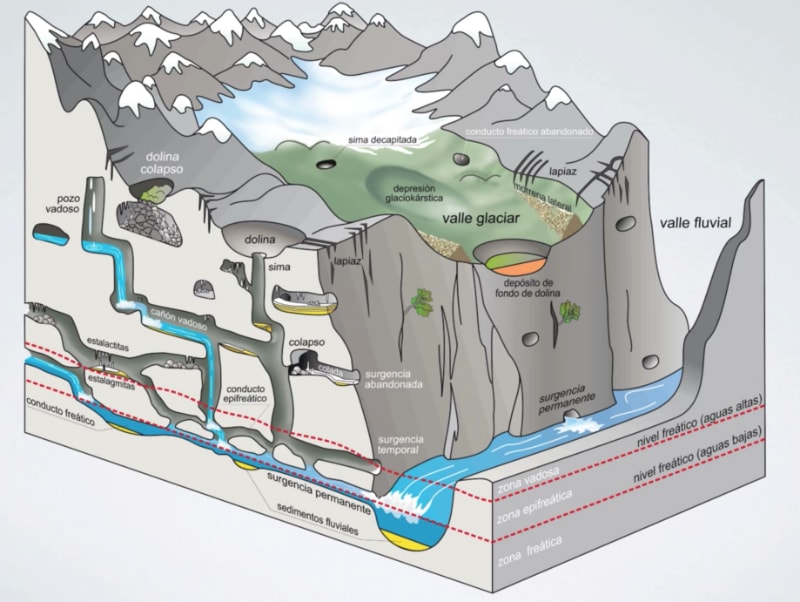 A geological paradise
The Picos de Europa are characterised by the sheer amount and variety of limestone formations with great geological value. More than 50% of the National Park territory is made up of limestone. In fact, much of the limestone formations are notable key places within the world of caving and are areas which have bared witness to underground streams for thousands of years. Exploring them is an adventure which, if done with an experienced guide, does not pose any risk and presents an exciting venture.
The most renown caves of Picos de Europa.
Many are the caves situated deep within Picos de Europa which deserve a special mention. However, when it comes to exploring, the following caves are more than worthy of our attention: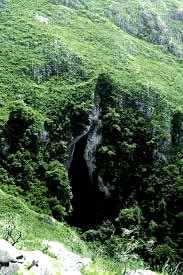 1. The Cave of Tinganón: situated in the Asturian municipality of Ribadesella, it is commonly known as "The Cathedral of caving". Its entrance sits 40m above the ground.
2. The Cave of La Huelga: situated some 3km from Cangas de Onís and differs from most as it has a river running through it as well as having two levels.
3. The Cave of La Porquera: found in Triongo and is only 4km from Arriondas. It is perfect for those with little caving experience.

4. The Cave of Pando:  located within the place which gives it its name, Pando. Its course is circular and practically horizontal and is teeming with stalagmites and stalactites. It is also perfect for children and rookie cavers.
5. The Cave of Santibaña/The Cheese Cave: to arrive at this cave you must first embark on the hiking route "PR-PNPE.13", which is well signposted and starts at Caín and passes through Caín de Arriba. This cave has been hugely important throughout history and was used by our residents to cure their cheeses, hence it is known as "The Cheese Cave"
PR-PNPE 13 Cave of Santibañas itinerary 'short' [KML]
PR-PNPE 13 Cave of Santibañas itinerary 'long' [KML]
The deepest caves in Picos de Europa
In the Leonese hillside, the deepest caves are: Torca de la Palanca/Torca Magali, Pozo del Madejuno and Sima La Monda. These are the three Leonese caves which are over 1,000 meters deep.
Whether you have never been caving before or are a fulltime pro, Picos de Europa is the ideal place to explore underground. Put yourself in the safe hands of our professional guides and be exhilarated with a safe and unique caving experience.