The course takes place at the El Cares campsite, (see dossier) located in the Valdeón valley in the southern part of the Picos de Europa. It is an undoubtedly unique and beautiful place surrounded by nature, where we can enjoy its landscapes and numerous trekking routes.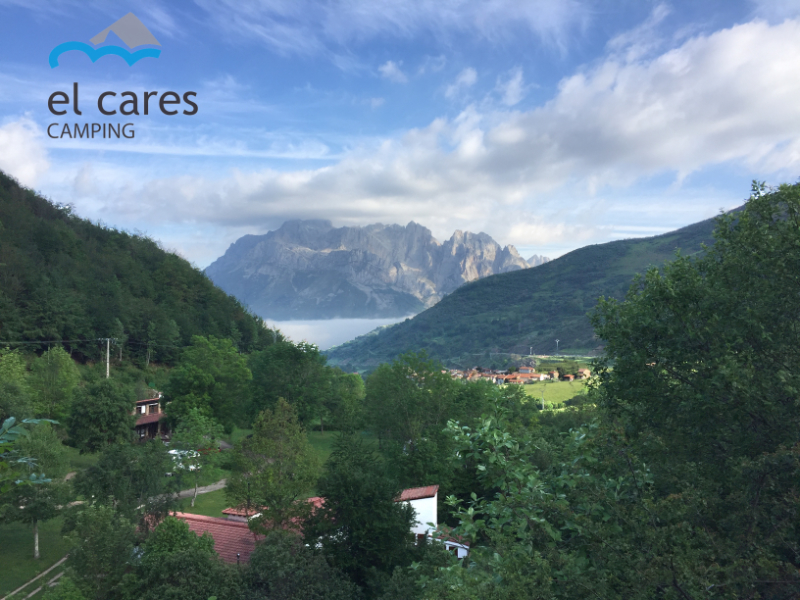 Available accommodation options are: four-person cabins (until capacity is reached), tents, or if you prefer you can use your own sleeper car if you have one. In the case of not having camping equipment, we can definitely help you out.
You don't have to worry about food as you will have full board in our Camping el Cares. Please notify us in advance if you have any allergies, intolerances or specific dietary needs.
When will it take place? from Thursday, July 16 in the afternoon until noon on Sunday, July 19, 2020.
The course is 22 hours in total, spread over four days and three nights, ample time to take advantage and learn about geodesic structures and explore the beautiful national park in your free time. This is a great opportunity to combine fun and educational experiences.
The minimum requirement of places for the course to run is 10 people, and maximum 15 people.
The price is 280 € with everything included (food, accommodation and course).
To make the reservation you can do it from our website
In the event that you are unable to attend due to unforeseeable circumstances, we will refund the amount of the reservation.
THEORETICAL PRACTICAL COURSE OF CONSTRUCTION OF GEODESIC STRUCTURES
More and more domes are seen in constructions of this type, but why? If you want to know the answer and learn to how build them, this is your course.
You will get to know the geometric, constructive and structural foundations of the geodesic designs, both domes and vaults and their different frequencies, and in the end you will learn how to develop a project like this. To complement the practical side to things, there will also be theoretical parts on the construction with wood, bio-construction and reciprocal structures.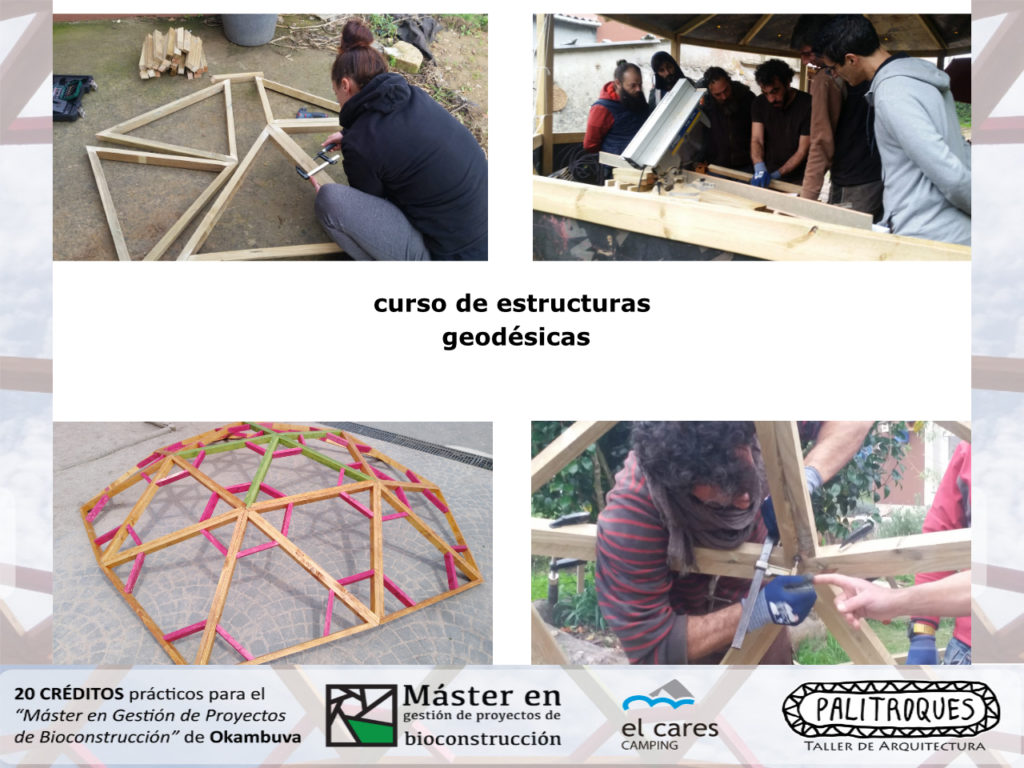 In practice, we will build a geodesic structure composed of a dome and a vault 6 meters in diameter and 10 meters long, which will be covered with a tarp. By doing this, you will learn and experience the entire construction process, cutting wood and assembling the entire structure.

This course is certified to give practical credits for the "Master's in Management of Bioconstruction Projects" taught and directed by the OKAMBUVA cooperative.
WORKSHOP with Víctor González García-Echave.
Architect for ETSAC. University course expert in Project Management of Architecture in Bioconstruction. In addition, he has conducted numerous specific courses and workshops in his field.
He is an active member of ESPIGA (Galician Association for Bioconstruction) and collaborator for the OKAMBUVA cooperative and is dedicated to construction and training in bioconstruction.
Author of the PALITROQUES project, an architecture and applied geometry workshop, developed from a didactic resource based on a construction system of slats and joints for the assembly of structures.
He is currently working freelance as a project architect in bioconstruction and teaching architecture workshops with 'PALITROQUES' and 'SISTEMA LUPO'.
COURSE PROGRAM:
SCHEDULE:
Thursday 16 (4:00 p.m. to 8:00 p.m.)
Friday 17 (10:00 a.m. to 2:00 p.m. and 4:00 p.m. to 7:00 p.m.)
Saturday 18 (10:00 a.m. to 2:00 p.m. and 4:00 p.m. to 7:00 p.m.)
Sunday 19 (10:00 a.m. to 2:00 p.m.)
1st SESSION (afternoon) (3 hours)
Presentation of the project
Theoretical class: introduction to the geometry of domes and geodesic vaults
Model assembly
2nd SESSION (7 hours)
Theory class: introduction to wood construction
Beam cutting and triangle manufacturing
3rd SESSION (7 hours)
Theory class: introduction to reciprocal structures
Structure assembly
4th SESSION (morning) (4 hours)
Completion of the assembly of the structure
Theory class: summary and conclusions
What is essential to bring to this workshop?
Links should serve as an example only, do not imply where to purchase the recommendations
• Appropriate work clothing
• Work shoes (participation without appropriate footwear is not allowed)
• Work gloves
• Tape measure (min. 5m)
• Carpenter's pencil
What is also recommended to bring to this workshop?
Links should serve as an example only, do not imply where to purchase the recommendations
• Notebook and pencil / pen
• Cordless electric screwdriver
• Hardhat
• Sun cream
• Moisturizer
• Water bottle
What is also useful in this workshop and that you may wish to bring?
Links should serve as an example only, do not imply where to purchase the recommendations
• Tool belt
• Sliding sergeant frame clamps