Relax and take care of your body in a natural environment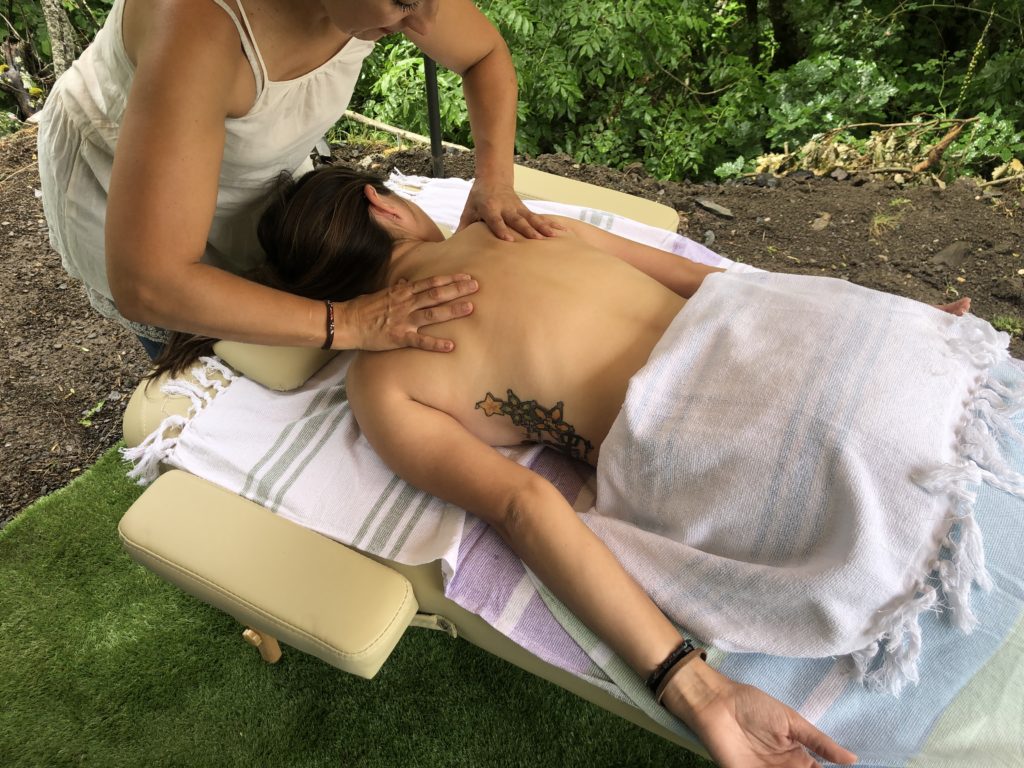 To all visitors of our paradise, we offer an exclusive service to make your stay a healthy and pleasant one.
After a long hike, you can rely on resting in a relaxing environment in which natural therapies are available to ease any physical or mental tension you may have. As you relax, disconnect from everyday stresses which come with the monotonous day to day.
Natural Therapies
Foot reflexology: 15mins – 15€
Targeted muscular relaxation treatment: 20mins – 20€
Soft targeted muscular relaxation: 20 -20€
General massage: 1hour – 60€
Body massage + Wood therapy treatment: 1hour – 60€
Chryo-genesis (hot and cold): 20min-20€
Facial cleansing: 1 hour- 30€
Facial massage: 15mins – 15€
Neck and chest massage: 15mins- 15€
SPA: feet and hands: 30mins- 30€
Cosmetic paraffin: 40mins-40€
All our treatments use natural products to improve your experience and to avoid harming our beautiful environment.

Foot reflexology
Works reflex areas from the foot up towards other parts of the body. It is an art and a science which helps you carry on hiking with comfort.
SPA: feet and hands
Stimulates the senses from the our most active extremities as they are vital to everyday life and help us experience the world around us.
Cosmetic paraffin
Calming muscular treatment of tendons, done with hot wax which dilates blood vessels to helps create hydro-tension. The wax applied penetrates and is 100% absorbed.
Facial cleansing
Our skin is alive. Pamper it with our facial treatments and our personalised sessions. Only natural products are used.
Facial massage
We want our skin to be smooth, bouncy and soft. That's why our massages always benefit you.
Neck and chest massage
Your mind and your routine stresses cause tension in the body and sometimes pain. With this relaxing massage, we alleviate your physical tensions.
And relaxed, you can continue your adventure.