Here we leave you the information of one of the routes that can be done leaving from the campsite El Cares. It is a simple half-day route but very beautiful. Much of the route is through the forest, perfect for walking with kids. It is also very quiet, it is usual not to meet anyone along the way.
PR-NEPP-14 – Santa MarinaMontó – Prada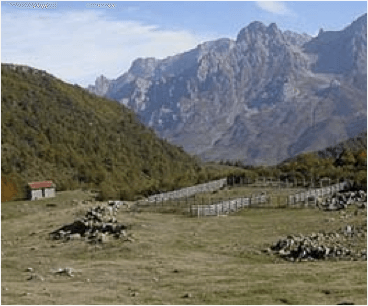 The route is straight and with white and yellow markings. It goes south of the National Park. It crosses over forest roads and tracks from Santa Marina beech groves to Prada, dotted with
of some winters (buildings to store livestock during the winter).
snow season).
Halfway up the hill you can go up to the Montó sheepfold (sheepfold for cattle), climbing up the meadow of the Jor valley.
It is possible to make the circular route returning to Santa Marina by the
old road to Posada.
Observations: Very close to the Montó turnoff there is a fountain.
Difficulty: Medium.
Time: 1h30 Santa Marina – Prada
(one way only); 2h30 on the road. 2h more to go up to Montó.
Departure point: Bridge on the Camping-Santa Marina road (starts from the campsite).