Disfruta las fiestas y tradiciones de Valdeón
Amongst tall, rugged mountain tops and imposing nature, sits the Valdeón Valley. A magical place with ample custom, tradition, and celebration. The Valley is a nirvana which will help you blissfully forget the world and feel at home with mother nature.
Enjoy this stunning setting with Camping El Cares
The terrain is tough and the area is remote. However, it is precisely this harsh terrain which gives the place its charm. With only two ways in, the Valley is a hidden gem within Picos de Europa. It will have you captivated at first sight with its many views, you won't ever want to leave.
The charm of Valdeón Valley traditions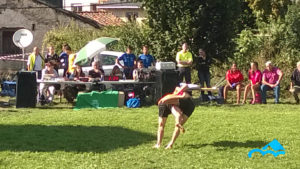 But it isn't all fields, mountains and countryside. The Virgen de la Corona Cultural Festivals are official events of tourist interest. Every year the valley's patron festivals are all events that you wouldn't want to miss. With the procession of the statue of La Virgen accompanied by bagpipes, these festivals start with a bang. Shortly after, they continue with multiple activities, such as lucha leonesa (folk wrestling) or games with inflatables for the children. The 8th of September is when La Virgen returns to her chapel, escorted by all the residents of the Valdeón Valley.
Valdeón hosts new activities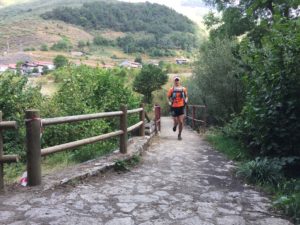 Starting years ago, new customs have arrived and gained fame in the Valley. This is the case for Transvaldeónica, a popular mountain race which attracts some of the best fell runners in the world. It takes place on the last weekend of August, coinciding with the ascension of La Virgen de la Corona and also the Cordiñanes festivals, which take place in a beautiful meadow surrounded by crags and rocks.
Our party, simple and charming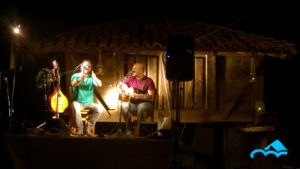 Another festival that we hold dearly, is the Santa Marina de Valdeón, which this year will take place on the weekend on the 14th and 15th of July. It starts with a mass in honour of Santa Marina and a procession through the town's streets. Afterwards, the day's activities usually develop in to games of football, skittles, mus tournaments (traditional spanish card game) and children's games. And to top it off, there is a traditional Leonese folk music concert in the town centre.
Many peaks, bikes and good atmosphere
Not forgetting the traditional motorcycle rally "Garamotos". The event normally takes place around the start of August in Santa Marina, where a diverse cultural atmosphere explodes in to life with music and dance, contrasting its surrounding beautiful nature. Games, great food and enchanting walks through the Valley make this a completely unforgettable weekend.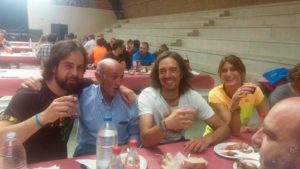 Another of the Valley's classic events is the Fiesta De la Trucha (Trout Festival). The festival originates from an age-old festivity and has been celebrated for years by having a barbecue at the start of fishing season with the sounds of bagpipes and drums alongside. As peculiar as it sounds, it is typical of the type of festivals that take place in this part of Spain, you will absolutely love it. The festivity takes place around the end of April leading in to the first few days of May, depending on the year.
A truly magical valley
This is how many authors, who have written about Valdeón Valley, have described it. It never fails to leave an impression on everyone who visits, its vigour and ruggedness will have you hypnotised.
You simply cannot visit Valdeón Valley without seeing the wonder of la Ermita de la Corona. This temple is where, according to legend, King Don Pelayo, founder of the Kingdom of Asturias in 718AD, was crowned. Legend also tells that there was a catastrophic draught and the thirsty asked La Virgen, who resides within the temple, for water and she granted it to them in the form of rain.
As you can see, the Valley's tradition, cultural festivals, mountains and legends are sure to leave you wanting more. You will experience them all with Camping el Cares.