Ecotourism in the Picos de Europa is the best way to enhance naturalist intelligence. That is the sensitivity to appreciate the details of the landscape and vegetation, one of the most important skills you can instil in your child through environmental education. You get this by making sustainable tourism and at the same time healthy.
A simple activity, such as enjoying family time at a campsite in the highest village in the Picos de Europa National Park, is a gift with incalculable benefits for your child's development.
Ecotourism in Picos de Europa, where to do it?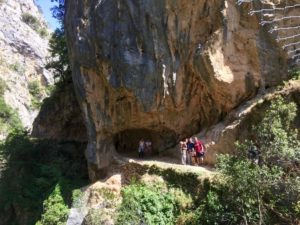 This is a high mountain area where you can enjoy hiking routes through forests of beech, oak and holly trees… or get close to the imposing limestone peaks, so characteristic of the area, or discover the famous Cares trail.
It is an incentive to travel with the family to a natural destination such as the Picos de Europa, which together with Ordesa, are the oldest National Parks in Spain.
The Valdeón Valley, together with the neighbouring Sajambre Valley, are the only urban centres within a National Park in Spain. It is made up of eight villages, surrounded by hundreds of mountains, where the level of preservation is very demanding and respectful.
what activities make for healthy and eco-tourism?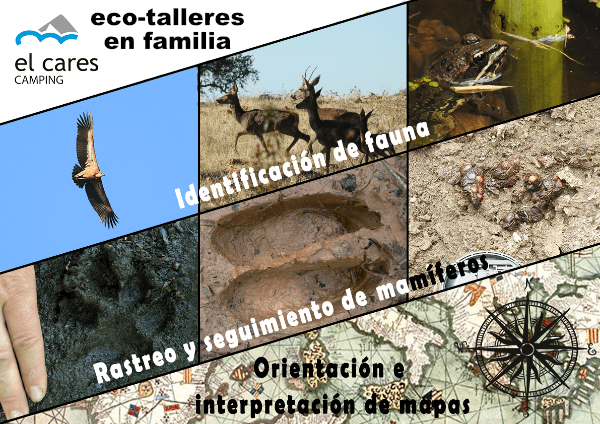 Nature is a fundamental treasure, and humans are part of that natural ecosystem.
For this reason, at the Cares campsite, we are at your disposal, and we have incorporated an interpreted route, games and gymkhanas with which you can rediscover the world around you and thus take better care of it.
The natural environment is essential to put into practice virtues so necessary and healthy, such as orientation, environmental sensitivity, curiosity about the environment or simply patience.
All in an ECO-FUN way and in a pure and green environment.
Ecotourism and multi-adventures in Picos de Europa
The catalogue of mountain activities that provide fun and enrich family time does not end here.
A getaway in which different activities such as canyoning, via ferrata de Valdeón, caving. Also getting to know the environment by mountain biking on one of our electric bikes. All these activities, will make you spend an unforgettable journey through the magical forests of the Valdeón Valley. Marks a sweet imprint on the positive range of your experiences.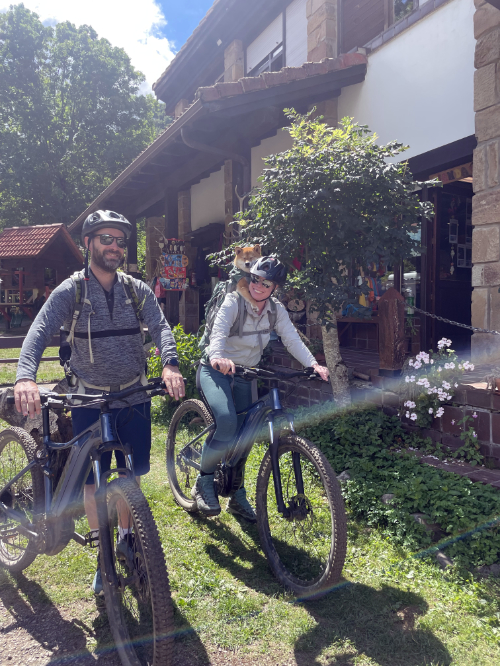 Technology VS Nature
Children are born into the technological age. The use of mobiles and tablets to entertain them has a negative effect on their neural system.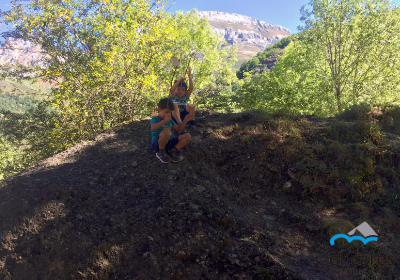 However, through activities in contact with nature, not only do you enhance your child's knowledge of the rural environment, but you also reduce stress, promote physical exercise and learn about coexistence.
In addition, other benefits of a healthy environment are breathing fresh air, appreciating the sounds of nature or simply being more aware.
Benefits of healthy and sustainable tourism
In short, contact with nature brings a pleasant feeling of wellbeing and self-esteem to the family. Furthermore at a cerebral level, it favours the generation of new connections that contribute to the optimal development of the child.
Going camping as a family is an opportunity to experience a different lifestyle thanks to sustainable tourism. Your child develops ecological values that are vital for their wellbeing.
A trip in which to give prominence to everyday routines, for example, the magic of the sunrise or the views of the starry sky at night.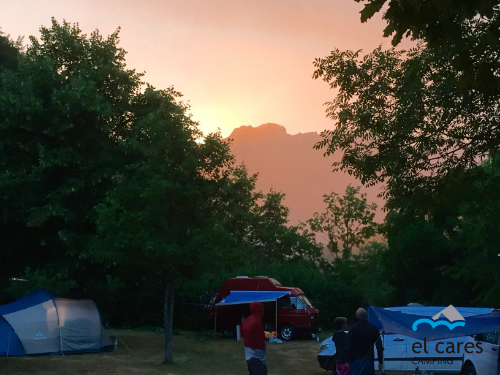 Moreover, if you like to take photographs of your family trips, the natural landscapes create the best colourful scenery. Add visual quality to the images of this getaway with which to personalise an unforgettable album.
Although the best photographs will be engraved in your memories.
More and more people are deciding to give ecotourism experiences as a gift. In this way, you contribute to improving the environment and favouring sustainable tourism and local development in the Picos de Europa. Give an Ecotourism experience as a gift.
ACTIVITIES